Does Christianity in America seem a little odd to you? I think many Christians believe that being a good Christian is standing strong in Washington, DC. If we're active in the right political party and get all the right laws passed, then we can be a good Christian nation, right? No. Christ has called us to live for him and be like him. Is this the calling we've answered? I can say with a certainty that liv-ing for Christ and living to please him, is no longer being preached. The common message is about what God can do for us and how he can help us feel better and be more successful in what we want to do. My question is this: When did God become our slave? The truth is that our American churches have become distracted by everything around them and lost sight of the reason they exist. This worldly attitude has created a kind of plastic Christianity that possesses the label but lacks any real substance.
Buy it here:
https://www.amazon.com/Plastic-Christians-Dave-Paul-Campbell/dp/1724863541/ref=sr_1_1?s=books&ie=UTF8&qid=1534004783&sr=1-1&keywords=Plastic+Christians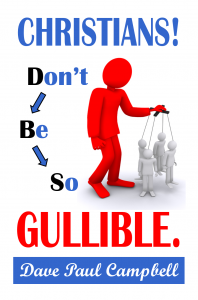 Christians! Don't Be So Gullible
Christian or not, no one likes to think that what they have believed for so long could be a little left of reality. However, the uncomfortable truth is that what men teach is sometimes more about what they have been taught than what they can prove is from God's own lips. As a pastor and evangelist, I have been asked some hard theological questions. In addition, during study for the hundreds of sermons/lessons I have prepared, I began to see some things in The Bible that contradicted things I had been taught. I also found gaping holes and lack of a solid scriptural base for doctrines that many main-line churches teach. One such teaching that seems to be based more on tradition than Biblical foundation is that after Jesus death he went to Hell. Is this true? Maybe; but can we prove it or disprove it in scripture? The truth is, we are not teaching Christianity or a denomination; we are teaching what The Bible says; and if The Bible does not clearly say it, we should not teach it, right?
Buy it here:
https://www.amazon.com/s/?ref=nb_sb_noss?url=search-alias%3Dstripbooks&field-keywords=christians+don%27t+be+so+gullible&rh=n%3A283155%2Ck%3Achristians+don%27t+be+so+gullible

Revelation Without Inflammation
If the Book of Revelation was a living organism, it would be so inflamed that it would likely die. This book explores Revelation without the usual additions and manipulations. The approach is described as a "first read" and employs simple rules to keep Biblical explorers from becoming sidetracked by idle speculation and endless theories. Dave invites you to come with him on this exploratory journey and dare to see Revelation from a fresh, new perspective.
Buy it here:
https://www.amazon.com/Revelation-without-Inflammation-Dave-Campbell/dp/154409275X/ref=sr_1_1?s=books&ie=UTF8&qid=1489158224&sr=1-1&keywords=revelation+without+inflammation
In order to protect human life, precautions need be taken for when and how they are used. For many people this is "a no-brainer." However, what is not so apparent, is that people use emotional "guns" to hurt people they love. These weapons are not easily recognized nor are they handled with the care they deserve. When we ignore the deadly nature of our emotional armament, others can be destroyed, both emotionally and physically. In this book Dave explores the common weaponry people use against their spouse and what effect those weapons have on the human soul. He details the destructive nature of threats, attack-driven arguments, divorce mentality, physical violence and much more. He also offers ways to lay those guns down and gain a more peaceful relationship with your mate. If you or a friend is experiencing terrible friction in your marriage, this book offers a sensible view of the issues and practical solutions.
Buy it here:
https://www.amazon.com/Marriage-without-Guns-Dave-Campbell-ebook/dp/B01GLX966I/ref=sr_1_1?s=books&ie=UTF8&qid=1465437053&sr=1-1&keywords=marriage+without+guns+dave+campbell
The journey from boyhood to manhood in America is challenging and filled with misdirection and half-truths. Sorting out what is important from what is simple social or cultural expectation can be a winding road. This book takes on the most critical issues in a young man's life and discusses specific details of different lifestyle choices. It's not a book for the timid or squeamish. Many aspects of sexuality and alternate lifestyle activities are brought out of the closet with gritty reality. The reason such stark, in-your-face reality is presented here is because of so much media hype and social misrepresentation of what alternate lifestyles involve. In addition, there are so many stereotypes of what a male should and should not be. This book attempts to bring information back into balance and to encourage young men to be the best of who they were created to be.
Buy it here:
http://www.amazon.com/Boy-Man-Gay-Focused-Maturity/dp/1508772770/ref=sr_1_1?ie=UTF8&qid=1431273099&sr=8-1&keywords=boy%2C+man+or+gay+-+dave+campbell
Everyone wants to be happy, but many people have trouble achieving consistent happiness. This can be the result of misunderstanding what happiness is and how to bring more of it into a person's life. This book explores the foundations of happiness and the building blocks that make it a reality. It also debunks the idea of entitlement to happiness and provides methods for successfully planning a happier future. When you understand what to expect from life and begin to cultivate opportunities for happiness, you probably will say, "I am happier."
Disclaimer:
This book is not designed to be a replacement for professional or clinical diagnoses of emotional or mental disorders. Neither the publisher nor author are offering any medical or psychological analysis, or any treatment techniques in the pages of this book. Any perceived suggestions or methodologies in this book are only an opinion based on common sense and the author's life experience.
Buy it here:
http://www.amazon.com/Make-Happy-Dave-Paul-Campbell/dp/1484842790/ref=sr_1_1?ie=UTF8&qid=1372785414&sr=8-1&keywords=make+me+happy+dave+campbell
Theft of Christ's Identity explores the vast number of misconceptions about God and offers alternate paths to discovering his true identity. Social media, movies, poor Bible teaching, and many more factors have worked to create images and ideas that are different from God's true character. This book serves as a magnifying glass and helps expose counterfeit identities of our Lord and Savior. It reveals many sources of this identity theft and gives solid solutions for correcting the many false ideas we have already accepted. What this book presents is long overdue and though some readers may find it controversial, its importance to believers' spiritual survival, is critical.
Buy it here:
https://www.amazon.com/Theft-Christs-Identity-Dave-Campbell-ebook/dp/B01LK4QAYY/ref=sr_1_3?ie=UTF8&qid=1488729705&sr=8-3&keywords=theft+of+christ%27s+identity
Someone once said, "Oh, don't worry; what they don't know won't hurt them."  But you and I have come to realize that there are many things we don't know and some of them can hurt us.  In fact, sometimes it's what we don't see that brings us the greatest harm.  The car that we don't see can totally ruin our life.  A virus can disable or even kill a human being, yet no one can see a virus with the naked eye.  As human beings we like to know what is potentially damaging and we try to take steps to mitigate the associated risks.  There are many areas of life where we experience joy or pain, from things that are unseen.  What's odd is that spiritual areas of our life contain some of the most dangerous consequences, yet we seem to ignore those areas.  There are many spiritual activities that are veiled to human beings.  Some are there for our good and some are there to hurt.  If we are as smart about these hidden veils as we are about potentially harmful traffic conditions, we may be able to avoid some of the deepest pitfalls in life and set up better defenses against demonic plans.
Buy it here:
http://www.amazon.com/Veil-things-unseen/dp/1492703125/ref=sr_1_3?s=books&ie=UTF8&qid=1379515191&sr=1-3