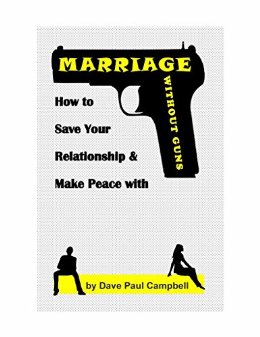 In order to protect human life, precautions need be taken for when and how they are used. For many people this is "a no-brainer." However, what is not so apparent, is that people use emotional "guns" to hurt people they love. These weapons are not easily recognized nor are they handled with the care they deserve. When we ignore the deadly nature of our emotional armament, others can be destroyed, both emotionally and physically. In this book Dave explores the common weaponry people use against their spouse and what effect those weapons have on the human soul. He details the destructive nature of threats, attack-driven arguments, divorce mentality, physical violence and much more. He also offers ways to lay those guns down and gain a more peaceful relationship with your mate. If you or a friend is experiencing terrible friction in your marriage, this book offers a sensible view of the issues and practical solutions.
Buy it here:
https://www.amazon.com/Marriage-without-Guns-Dave-Campbell-ebook/dp/B01GLX966I/ref=sr_1_1?s=books&ie=UTF8&qid=1465437053&sr=1-1&keywords=marriage+without+guns+dave+campbell
Everyone wants to be happy, but many people have trouble achieving consistent happiness. This can be the result of misunderstanding what happiness is and how to bring more of it into a person's life. This book explores the foundations of happiness and the building blocks that make it a reality. It also debunks the idea of entitlement to happiness and provides methods for successfully planning a happier future. When you understand what to expect from life and begin to cultivate opportunities for happiness, you probably will say, "I am happier."
Disclaimer:
This book is not designed to be a replacement for professional or clinical diagnoses of emotional or mental disorders. Neither the publisher nor author are offering any medical or psychological analysis, or any treatment techniques in the pages of this book. Any perceived suggestions or methodologies in this book are only an opinion based on common sense and the author's life experience.
Buy it here:
http://www.amazon.com/Make-Happy-Dave-Paul-Campbell/dp/1484842790/ref=sr_1_1?ie=UTF8&qid=1372785414&sr=8-1&keywords=make+me+happy+dave+campbell